Fagkursus – for fagnørderne (kun denne ene gang)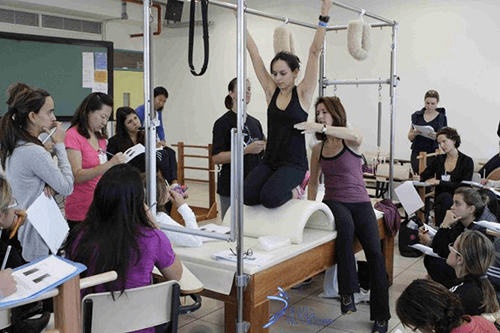 Dette kursus henvender sig til fagnørderne, der vil opleve en ægte bevægelses ekspert videregive sit arbejde med åndedrættet til dig, som også arbejder med bevægelse og træning.
Movement is Breath: Beyond the Mechanics with Madeline Black
Læs mere nedenfor og tilmeld dig her
(kurset afholdes kun denne ene gang)
COURSE DESCRIPTION
Movement is Breath: Beyond the Mechanics
Many movement teachers know the how the breath works, diaphragmatic and abdominal. Or are they separate actions? What is the healthy patterning of the trunk? Is it the contraction, the relaxation, pulling in or letting go as the most effective use of breath and movement. What if the client has difficulty with breathing due to body tension, disease or simply lack of awareness.
Madeline Black will lead you through a movement class to enhance the body's tissue structure for improved breathing therefore better control for strengthening. She will demystify and simplify the myofascial connections for healthy trunk movement patterning for better breathing.
Learn to support a client with compromised breathing especially those with health issues. Madeline will teach hands-on work as well as movements to integrate movement and breath.
Objectives
• Expanding the understanding of how movement and breath are interrelated based on new science
• Experiencing a 30 minute movement class focused on the tissue structures normally restricted when breathing is limited
• Learning to teach breathing with energy and life rather than typically in a slow, minimal movement process
• Assisting clients with greater restrictions due to disease, tension or structural issues such as scoliosis
• Cueing through hands-on work to guide the client in a felt sense of breath movement
WHO CAN PARTICIPATE
The Movement is Breath course is for every professional working with the body, therapy, exercise and movement. You will benefit from this course as a therapist or a trainer/instructor. You will benefit as a Pilates instructor or just a body enthusiast.
The course is organized by "Den Intelligente Krop", who welcomes everybody, regardless of background and interests.
DATE
2.-3. May 2015, both days 10:00-17:00
PRICE
DKK 5.500,- (EUR 740)
No meals included.
NOTE
There will be a maximum of 17 participants. The course has been sold out many places around the world.
CANCELLATION OF BOOKING
Cancellations after 21. March, will not be refunded Cancellations before 21. March, will be refunded 100%
COURSE MATERIALS
A printed course manual in English is included. Note: The course is taught in English.
ABOUT MADELINE BLACK
Madeline Black has distinguished herself as an international leader in Pilates Instruction and movement education. To date she has presented her work at distinguished forums such as Pilates On Tour, the Pilates Method Alliance, the Body Mind Expo Conference, and Pilates Style Magazine. Madeline is a Mentor in the Passing the Torch Program created by Balanced Body and coaches the most advanced teachers, raising the education and quality in the Pilates industry. She has also given workshops in Australia, China, Germany, Italy, Ireland, Japan, Mexico, Spain and throughout the US. She is PMA-CPT, ACE and ACSM certified, and Hendrickson Method certified.
Madeline draws inspiration from a vast knowledge of anatomy, biomechanics, quantum physics, and energy work, which has lead to an innovative, interdisciplinary approach to Pilates, yoga, and Gyrotonic. What sets Madeline's teaching apart is her emphasis on clear instruction. From her lecture demos, to her hands-on work, to her educational and supplementalmaterials, participants leave her workshops immediately able to integrate her ideas and concepts into sessions with their own clients. Her accessibility, articulateness, commitment to Pilates, and decades of experience, makes her a beloved and sought-after instructor.
Madeline has studied Pilates under many of the modern masters of our time, including Eve Gentry, Romana Kryzanowska, Naja Cori, Jean Claude West and Anna Schmitz. Additionally, she worked and mentored with Marika Molnar at Eastside Sports Medicine Center in New York, studied anatomy and neuromuscular re-education with Irene Dowd, Gyrotonic with Julio Horvath, orthopedic massage with Tom Hendrickson, Integrative Manual Therapy with Sharon Weiselfish-Giammatteo, and Lauren Berry technique with Lynda Caesara. She is also exploring the field of energy work.
Meet Madeline at her website www.madelineblack.com 
DO YOU NEED ACCOMODATION?
Please contact the office at tommy@denintelligentekrop.dk for recommendations.
PLACE
Den Intelligente Krop
Hørkær 7-9, 1 sal
2730 Herlev
Denmark
(Approx. 13 km outside city center Copenhagen – train goes directly)
Click here to find us with Google Maps
CONTACT INFORMATION
Phone 0045 44927349
E-mail lotte@denintelligentekrop.dk